Abstract: LB2602
Type: Late Breaking Oral Session
Presentation during EHA22: On Sunday, June 25, 2017 from 11:30 – 11:45
Location: Hall A
Background
1q (1q21 gain) is a common high-risk subtype of multiple myeloma (MM), which drives MM progression, confers drug resistance, and correlates with inferior outcome. However, the molecular mechanism underlying the adverse prognostic roles of 1q remains largely unclear. Recently, 1q has been linked to hypoxia and resulting drug-resistant gene expression.
Aims
To understand the function and clinical significance of hypoxia-induced factor-1β (HIF-1β), a gene located in the 1q21 region, in 1q MM and hypoxic microenvironment.
Methods

The relationship between 1q or HIF-1β and Btz response or overall survival (OS) was analyzed in patients with newly-diagnosed MM (NDMM). Western blot and qPCR analyses were performed to determine expression of HIF-1β and other 1q21 genes in 1q vs 1q− or drug-resistant MM cells, or under hypoxia. The function of HIF-1β was evaluated using genetic means and pharmacological inhibitors.
Results
In a cohort of 180 NDMM patients, median OS (mOS) was 29 and 43 months for cases with (w) or without (w/o) 1q (P = 0.038), among which 24.3, 43.3, and 43.8 months for 1q copy number > 3, = 3, and = 2 (P = 0.030), respectively; whereas Btz-based therapy displayed a marked increase in response rate ≥ VGPR, it failed to improve mOS of 1q patients significantly (28.5 and 33.9 months for patients w or w/o Btz treatment, P = 0.983); in contrast, Btz treatment dramatically prolonged mOS in patients w/o vs w 1q (53.7 and 28.5 months, P = 0.016). To explore the molecular basis for the adverse effect of 1q on prognosis, expression of the 1q21 genes related to drug resistance was examined. Notably, robust expression of HIF-1β at protein level was found in 1q MM cells, while no difference observed in CKS1B, a biomarker widely used for 1q MM, or PSMB4 and MCL-1. Further, analysis of additional 40 NDMM patients revealed that HIF-1β mRNA level was significantly higher in MM patients, compared to normal donors (n = 5, P < 0.005); analysis of the microarray database UAMS "Multiple Myeloma DataBase" (University of Arkansas) also showed that HIF-1β expression was higher with MM progression, in high (e.g., MF, MS, PR) vs low risk (e.g., CD1, CD2, HY, LB; P < 0.05) subtypes, or in w 1q vs w/o 1q (P < 0.001 for copy number ≥ 3), as well as correlated to shorter OS (P = 0.027). In the in vitro study, HIF-1β was markedly up-regulated in MM cells acquired drug-resistance against Btz and lenalidomide, while no changes observed in other 1q21 genes (e.g., PSMD4, CKS1B). Ectopic expression of HIF-1β in 1q− cells reduced sensitivity of Btz. Hypoxia (1% O2) or its chemical mimetic lactic acid induced HIF-1β expression and Btz resistance, an event reversed by shRNA knockdown of HIF-1β. Furthermore, hypoxia-induced HIF-1β expression was associated with activation of NF-κB, which was prevented by the IKK inhibitor parthenolide, leading to restoration of Btz sensitivity in Btz-resistant cells.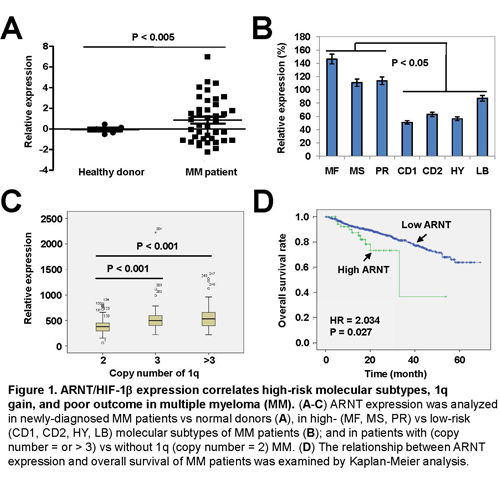 Conclusion
Together, these findings argue that HIF-1β represents a novel biomarker for risk stratification and prognostic prediction of MM patients, especially those with high-risk cytogenetics such as 1q. They also suggest that HIF-1β might play a critical role in drug resistance related to microenvironmental factors (particularly hypoxia) and 1q21 gain, therefore serving as a potential therapeutic target for development of agents or therapy to overcome intrinsic and acquired drug resistance in MM.
Session topic: 14. Myeloma and other monoclonal gammopathies - Clinical