Abstract: S808
Type: Oral Presentation
Presentation during EHA22: On Sunday, June 25, 2017 from 09:00 - 09:15
Location: Room N104
Background
Hepatic VOD/SOS, which may be unpredictable and potentially life-threatening, is typically considered a complication of hematopoietic stem cell transplantation (HSCT), and VOD/SOS with multi-organ dysfunction (MOD) may be associated with >80% mortality. Defibrotide is approved to treat severe hepatic VOD/SOS post-HSCT in the European Union and to treat hepatic VOD/SOS with renal or pulmonary dysfunction post-HSCT in the United States. However, VOD/SOS can occur after chemotherapy without HSCT.
Aims
To perform a post hoc analysis of final data on safety and response to defibrotide in patients developing VOD/SOS after primary chemotherapy without HSCT (off label).
Methods
In an expanded-access protocol for patients with VOD/SOS post-HSCT or chemotherapy, with or without MOD (renal and/or pulmonary dysfunction), defibrotide 25 mg/kg/d (4 divided doses of 6.25 mg/kg) was given a recommended ≥21 days after patients provided informed consent. Post-chemotherapy subgroup survival was analyzed post hoc from the day defibrotide was started (days 0–30 after start of chemotherapy) for 70 days (because follow-up data were collected for 100 days post-chemotherapy).
Results
Of 1154 VOD/SOS patients receiving defibrotide, 137 (12%) developed VOD/SOS post-chemotherapy without HSCT. Among the 82 patients (38 with MOD) treated with DF by day 30 after start of chemotherapy, median age was 7.5 years (range, 0–68 years) and 66 (81%) were pediatric patients (≤16 years of age). Among pediatric patients, 15% were age 0-23 months, 74% were 2-11 years and 11% were 12-16 years. Most common primary diseases were acute lymphocytic leukemia (51%), acute myeloid leukemia (13%), and neuroblastoma (6%). Kaplan-Meier estimated survival at Day +70 was 74% overall (95% CI, 63–82%); 66% (49–79%) in patients with MOD and 81% (66–90%) in patients without MOD. By age subgroup, Kaplan-Meier estimated survival at Day +70 was 80% (95% CI, 68–88%) in pediatric patients (Figure) and 50% (95% CI, 25–71%) in adults.
Adverse events (AEs) were reported in 54/82 patients (66%). Hemorrhagic AEs (≥2%) were pulmonary (6%), epistaxis or mouth (4%), and hematochezia (2%). There were 22 (27%) patients with AEs assessed as being at least possibly related to defibrotide, the most common (≥2%) were pulmonary or mouth hemorrhage (4% each) and hematochezia, nausea, encephalopathy, epistaxis, or hypotension (2% each). Related AEs led to discontinuation in 6 patients and were associated with 1 death (pulmonary hemorrhage, hypotension).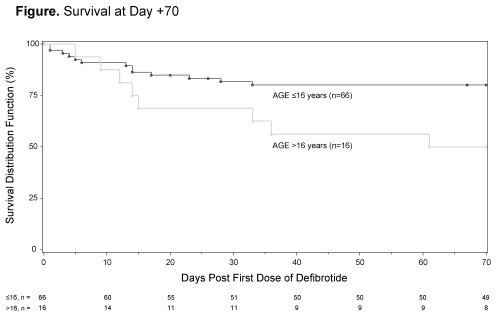 Conclusion
The 74% survival rate at Day +70 in patients with VOD/SOS receiving defibrotide within 30 days of starting chemotherapy (81% in patients ≤16 years) is clinically encouraging. Of note is the 66% survival rate in patients with MOD. The defibrotide safety profile was consistent with that previously reported in the overall population of this expanded-access protocol.
 Support: Jazz Pharmaceuticals
Session topic: 29. Infectious diseases, supportive care