Abstract: S788
Type: Oral Presentation
Presentation during EHA22: On Sunday, June 25, 2017 from 09:00 - 09:15
Location: Hall E
Background
AdvSM (ie, aggressive SM [ASM], SM with an associated hematologic neoplasm [SM-AHN], and mast cell leukemia [MCL]) comprises rare hematologic neoplasms with a poor prognosis. KIT D816V mutations occur in a majority of patients with advSM. Midostaurin is a multitargeted kinase inhibitor that blocks wild-type and D816V-mutated KIT. Two single-arm phase 2 studies (D2201 + A2213) evaluated the safety and efficacy of midostaurin in advSM. Overall, 60% and 69% of patients in D2201 and A2213, respectively, achieved the primary endpoint of partial or complete normalization of SM-related organ damage.
Aims
We compared pooled data from these studies with data from a patient registry to determine the effects of midostaurin on overall survival (OS).
Methods
Data from the midostaurin studies, in which patients received midostaurin 100 mg twice daily until progression or toxicity, were pooled. Historical control data were obtained from a contemporary patient registry based at University Medical Centre Mannheim, Germany. Although the primary analysis did not include matching for patient selection, subgroup analyses, and multivariate analyses were performed to assess whether baseline patient characteristics affected OS and estimated HR. Propensity scoring was used for supportive analyses to match the patients in the registry. Patients were evaluated for OS based on time from diagnosis to death; patients in the pooled analysis with known dates of diagnosis were included in the primary analysis. A sensitivity analysis to compensate for potential bias in patient selection was conducted using the start date of last treatment to death.
Results
The primary analysis of OS in patients with advSM included 89 patients from the midostaurin pooled analysis for whom the date of diagnosis was available (77% of the entire pooled cohort) and all 46 patients from the German registry who had not been treated with midostaurin. SM subtypes among patients from the pooled analysis and registry were similar; 66% of patients in the pooled cohort and 63% in the registry had an AHN (Table). KIT D816 mutations were present in 82% of patients in the pooled analysis and 96% in the registry. More patients in the registry (67%) vs the pooled analysis (42%) were aged >65 y. Median follow-up (time from diagnosis to data cutoff for the analyses) was similar for the 2 patient groups: registry, 54.9 (range, 1.9-150.4) mo and midostaurin, 53.6 (range, 31.6-215) mo. Patients in the midostaurin pooled analysis had a clinically relevant improvement in OS vs historical controls (HR=0.62 [95% CI, 0.39-0.98]; P=.0204; Figure). Median OS was 42.6 (95% CI, 31.0-53.9) mo in the pooled analysis vs 24.0 (95% CI, 13.0-39.5) mo in the registry. Multivariate Cox regression analysis after adjusting for covariates was consistent with the primary analysis: HR=0.51 (95% CI, 0.30-0.88); P=.0147. Data using propensity score for matched pairs (n=44) were also consistent (HR=0.381 [95% CI, 0.169-0.960]; P=.101). Subgroup analyses of OS showed HR in favor of midostaurin for all subgroups analyzed (age [≤65 y vs >65 y], KIT D816V status, number of prior therapies [≤1 vs >1], and SM subtype) except MCL. Subgroup analysis data should be interpreted with caution due to the small patient numbers in the German registry. Sensitivity analysis of OS from date last treatment received (pooled analysis, n=115; registry, n=42) was consistent with the main analyses (HR from the multivariate analysis=0.38 [95% CI, 0.22-0.65]; P=.0004).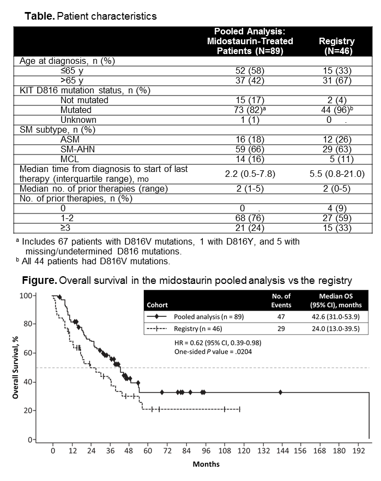 Conclusion
Midostaurin was associated with a 38% lower risk of death vs historical controls. Benefit was generally consistent across key subgroups.
Session topic: 16. Myeloproliferative neoplasms - Clinical