Abstract: S778
Type: Oral Presentation
Presentation during EHA22: On Sunday, June 25, 2017 from 09:00 - 09:15
Location: Hall C
Background

Between March 2000 and May 2005 a multicenter randomized trial comparing frontline use of CHOP-R vs. R-HDS with autograft has been performed on 134 Follicular Lymphoma (FL) patients, selected for age less than 60 yrs. and poor prognostic features according to age-adjusted IPI (2-3) and IIL-score (3 or greater). Results at 4-yr follow-up were previously published (Ladetto M et al, Blood 2008), showing superior disease control with R-HDS without any survival advantage.
Aims

We have recently performed a long term update and the results at a median follow-up of 13 yrs are here presented.
Methods

The long-term outcome has been updated for 119 out of the original 134 randomized patients (56 CHOP-R and 63 R-HDS arms). Main features of the updated patients included: median age 51 yrs. (22-60), M/F ratio 68/51, aaIPI 2-3 90%, high LDH 43%, bulky disease 60%, B-symptoms 46%, BM involvement 86%; no significant differences were observed in clinical presentation between the two arms, as previously reported. Treatment schedule consisted of: i. CHOP-R arm: 6 courses of cyclophosphamide/doxorubicin/vincristine/prednisone followed by 4-weekly rituximab courses; ii. experimental R-HDS arm: rituximab with high-dose sequential chemotherapy followed by autografting. The analysis was intention to treat with event-free survival as the primary endpoint. Minimal residual disease (MRD) was evaluated post treatment in 56 patients with a bcl-2/IgH MBR or mcr translocation confirmed at diagnosis by nested PCR. The trial was registered at www.clinicaltrials.gov, no. NCT00435955. The long-term outcome has been updated in January 2017 by 27 out of 30 participating Centers, on 119 patients (88% of the whole series).
Results

Complete remission (CR) was achieved by 86 (72%) patients, including 32 (57%) with CHOP-R and 54 (85%) with R-HDS (p < .001); Molecular Remission (MR) was achieved in 37 out of 56 (66%) evaluable patients. At a median follow-up of 13 yrs., 74 patients (63%) are alive. Overall, 22 patients died for lymphoma progression (13 CHOP-R, 9 R-HDS), 12 died for secondary malignancy (3 in the CHOP-R, 9 in the R-HDS arms), 11 patients died for other causes, including four early toxic deaths. The overall survival (OS) for the whole series is 63% at 13 yrs, as shown in Figure 1A.  No significant differences in the long-term OS were observed between the two arms, with 13-yr survival of 65% and 61% for CHOP-R and R-HDS, resppectively (p=0.51). At 13 years, the event free survival is 35%, whereas the disease-free survival (DFS) is of 53%, as shown in Figure 1B. Response to induction therapy had a major impact on the OS, with 13 yr survival of 75% for patients achieving CR vs. 33% for those with less than CR (p < .001). Similarly, Molecular Remission (MR) achievement was associated with prolonged OS, with 13 yr survival of 81% for patients in MR on BM cells, and of 47% for those with positive MRD (p = .02) (Figure 1C).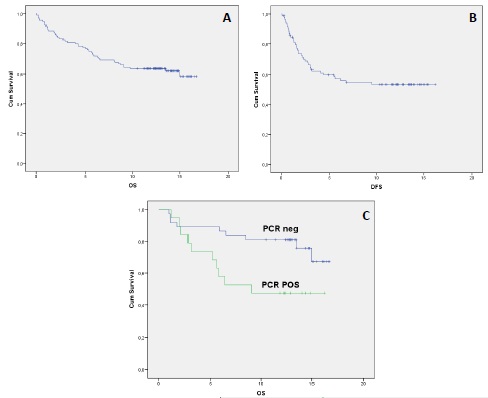 Conclusion

i. poor risk FL may have a prolonged survival, with 63% of patients alive at 13 yrs.; ii. no survival differences between CHOP-R and R-HDS can be detected even at 13 yrs of follow-up; iii. achieving CR is still crucial for the long-term survival; iv. the MRD analysis has a prognostic impact not only on progression-free but also on OS; v. lymphoma progression remains the major cause of death, while secondary neoplasms represent the second cause of treatment failure; vi. a subgroup of advanced-stage FL may experience a prolonged DFS lasting at least 13 yrs: this raises the issue of the potential curability of FL.
Session topic: 19. Indolent Non-Hodgkin lymphoma - Clinical