Abstract: S486Type:
Oral Presentation
Presentation during EHA20:
From 13.06.2015 15:45 to 13.06.2015 16:00
Location:
Room A8
Background
The Evaluating Nilotinib Efficacy and Safety in Clinical Trials as First-Line Treatment (ENEST1st) study evaluated the efficacy and safety of nilotinib in a large population of pts with newly diagnosed CML-CP using a network of 14 European Treatment and Outcome Study (EUTOS) standardized laboratories to monitor molecular response (MR).
Aims
Final results of ENEST1st, evaluated after all pts completed 24 mo of treatment or discontinued early, are reported.
Methods
ENEST1st was a phase 3b, open-label, multicenter study of nilotinib 300 mg twice daily in adults with newly diagnosed CML-CP. The primary endpoint was the rate of MR
4
(
BCR-ABL
≤0.01% on the International Scale [
BCR-ABL
IS
] or undetectable
BCR-ABL
in cDNA with ≥10,000
ABL
transcripts) at 18 mo. Results from 11 ancillary substudies, driven by national investigators and local study groups, will help shape the future management of CML. All pts provided written informed consent before entering the study.
Results
In 26 European countries, 1089 pts were treated. Median age was 53 y, 59.0% of pts were male, 90.3% were Philadelphia chromosome positive, 97.0% had typical b2a2 and/or b3a2
BCR-ABL
transcripts, and 16.9% were previously treated with imatinib for ≤3 mo. EUTOS scores were low in 82.6% and high in 8.6% of pts (8.7% missing). Sokal risk scores were low, intermediate, and high in 34.6%, 37.5%, and 18.1% of pts, respectively (9.8% missing). A total of 80.9% of pts completed 24 mo of treatment; 19.1% discontinued early, most frequently due to adverse events (AEs; 11.7%). The MR
4
rate at 18 mo in all treated pts with typical transcripts and ≤3 mo of prior imatinib (n = 1052) was 38.4% (95% CI, 35.5%–41.3%). Among pts with typical transcripts and without prior exposure to imatinib, 70.5%, 16.6%, and 2.6% of pts, respectively, achieved
BCR-ABL
IS
≤1%, >1% to ≤10%, and >10% at 3 mo. MR rates are further detailed in the Table. Six pts (0.6%) progressed to accelerated phase/blast crisis (AP/BC) on study; 13 pts (1.2%) died by 24 mo, including one due to CML progression (16 mo after study drug discontinuation).
The most common AEs of any cause were rash (21.4%), pruritus (16.5%), and headache (15.2%). Peripheral artery disease occurred in 1.9% of pts, ischemic heart disease in 3.4%, and ischemic cerebrovascular conditions in 0.8%; 0.6% of pts had pleural effusions. Grade 3/4 AEs related to hepatotoxicity and pancreatitis occurred in 0.4% and 0.6% of pts, respectively. Grade 3/4 thrombocytopenia and neutropenia occurred in 6.0% and 4.8% of pts, respectively. The most frequently observed grade 3/4 biochemical abnormalities were decreased phosphate (14.3%) and increased lipase (7.2%); glucose and lipid monitoring was not mandated in the study protocol.
Summary
In this large study,
frontline nilotinib yielded rapid and high rates of response and a very low rate of progression to AP/BC; however, some pts discontinued treatment by 24 mo. As assessed with multicenter molecular monitoring, MR rates in this study provided prospective confirmation of the centrally reviewed MR rates in the pivotal ENESTnd study. This process contributed to the development of standardized definitions for deep MR. Despite the higher median age of pts in ENEST1st than in prior studies, safety results were consistent with the known safety profile of nilotinib. Relatively low rates of the most common AEs may reflect improvements in the management of nilotinib-treated pts. These results support the use of frontline nilotinib 300 mg twice daily in pts with CML-CP.
Keyword(s):
BCR-ABL, Chronic myeloid leukemia, Molecular response, Tyrosine kinase inhibitor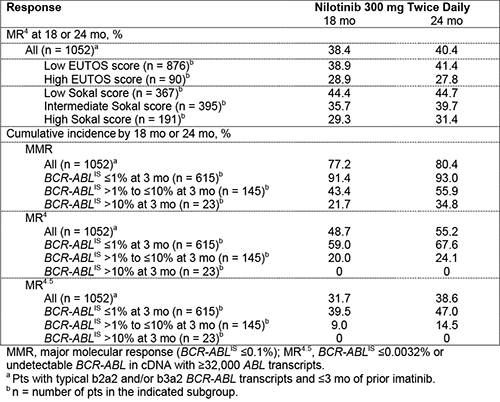 Session topic:
CML: Clinical trials