Abstract: P603Type:
Poster Presentation
Presentation during EHA20:
From 13.06.2015 17:15 to 13.06.2015 18:45
Location:
Poster area (Hall C)
Background
The introduction of Tyrosine Kinase Inhibitors (TKIs) has dramatically changed the prognosis of chronic myeloid leukemia (CML). For patients who maintain deep molecular remission for many years, it is now under discussion the possibility to discontinue TKI therapy. In the last 8 years different studies analyzed the outcome of patients who discontinued imatinib. For most of these studies, the main criteria for discontinuation were the duration of complete molecular response (CMR) and the depth of molecular response, defined at least as MR4.
Aims
To present our experience with imatinib discontinuation in clinical practice.
Methods
We retrospectively analyzed the outcome of patients treated in 6 Divisions of Hematology in Piemonte and Lombardia, who discontinued imatinib. All these patients had discontinued imatinib in CMR defined at least as MR4. After discontinuation patients were monitored. In case of loss of response, therapy was restarted. Only patients with a minimum follow-up of 6 months were included. Statistical methods: We estimated MR4 relapse-free survival and treatment-free remission (TFR) with the Kaplan-Meier method. Prognostic factors for MR4 relapse-free survival were assessed by univariate Cox regression model analysis.
Results
We analyzed a total of 46 patients who discontinued imatinib from August 2003 to October 2014. Median age was 53 year old (46-67). 24 were male, 22 were female; 27 (61%), 13 (30%) and 4 (9%) were low, intermediate and high Sokal score respectively; 43% (20/47) were pre-treated with interferon α (IFN). Reasons for discontinuations were comorbidities for 3 patients, patient request for 26 cases, intolerance for 13 patients, desire of pregnancy for 4 patients. Median time to CMR after the initiation of imatinib was 18 months (10-40). Median duration of CMR was 37 months (31-56) before stop. Median time of treatment with imatinib was 62 months (49-100). At 12 months, estimated MR4 relapse-free survival was 57.7% (95%CI 44.7%>74.2%). After a median follow-up of 37 months (14-77), estimated MR4 relapse-free survival was 42.9% (95%CI 29.8%>61.7%) (figure 1). Overall, 24% (11/46) of patients lost major molecular remission (MMR). Only 2 patients lost Complete Cytogenetic Remission (CCyR). Median time to loss of MR4 was 4 months (2-7). Most of the patients lost MR4 within the first 7 months (figure 1). 48% (22/46) restarted treatment; median time to restart treatment was 6 months (4-12). 4 patients lost MR4 but never restarted treatment. No patients progressed. We assessed age, sex, Sokal score, previous IFN therapy, duration of imatinib therapy, time to CMR, and CMR duration until discontinuation as potential prognostic factors for MR4 relapse-free survival, but no statistically significant association were found.  Patients who had to restart the therapy were treated with imatinib (19/22), nilotinib (2/22), vaccine (1/22). All of them regained at least an MMR (14 patients re-achieved a response ≥ MR4). All patients were alive at the last follow up with the exception of one who died of colon cancer.
Summary
Our experience, aligned to the literature, confirms that treatment discontinuation is feasible and safe for CML patients treated with imatinib front-line or after INF. No progressions occurred among our patients, considering that 75% of our population had a follow-up longer than 77 months. A close molecular monitoring is however required.  64% of patients regained a deep response, and may be considered for a second attempt of discontinuation.
Keyword(s):
Chronic myeloid leukemia, Imatinib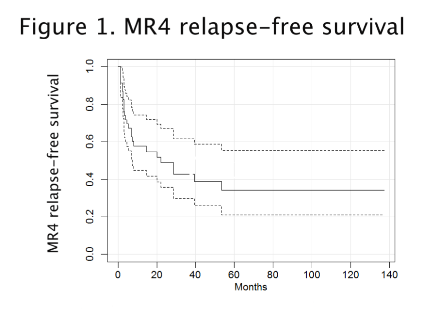 Session topic:
Chronic myeloid leukemia - Clinical 2