Abstract: P599Type:
Poster Presentation
Presentation during EHA20:
From 13.06.2015 17:15 to 13.06.2015 18:45
Location:
Poster area (Hall C)
Background
The Optim dasatinib trial validated a dose optimization strategy driven by dasatinib residual plasmatic level (EudraCT 2008-006854-17). We reported that dasatinib dose individualization was associated with a lower risk of pleural effusion and produced high levels of deep molecular responses (Rousselot et al. EHA2014). Dasatinib discontinuation was included in the trial and we report the first prospective dasatinib STOP study in dasatinib first line patients.
Aims
The aim of the study was to test the value of early discontinuation of dasatinib in early molecular responders. 
Methods
First line patients included in the OPTIM-dasatinib trial, in MR4.5 for 2 years and on dasatinib for at least 3 years were eligible. The OPTIM-dasatinib trial started to recruit patients in Jun 2009, therefore no patient was eligible for the discontinuation study until Jun 2012. Loss of major molecular response (MMR) was used as the criteria to resart dasatinib as validated for imatinib treated patients in the A-STIM study. 
Results
From Aug 2012 to Nov 2014, 20 patients were offered to discontinue dasatinib in MR4.5. Median age (52y, range 32-70) and Sokal score distribution (low, 45%; intermediate 30%; high 25%) was similar to the whole population. Sex ratio was 1 (10 males; 10 females) as compare to 1.3 in the whole population. Five patients were included in the adapted arm, 2 in the non-adapted arm and 13 in the standard arm. All patients were early molecular responders (BCR-ABLIS ≤10%) at 3 months and all except one were in major molecular response at month 6 (BCR-ABLIS ≤0.1%). Mediane time for dasatinib therapy was 43 months (range 36.3 to 56.5). Median time for the achievement of MR4.5 was 10 months (range 5.6 to 23.4). Median follow-up after discontinuation was 13.2 months. Ten patients (50%) restarted dasatinib after a median of 6.1 months (range 3.3 to 14.5). Median duration of treatment free remission (TFR) was 11.4 months. At 12 months, the proportion of patients in TFR was 41% (95 CI, 17.5 to 65.7). 
Summary
No published study has described the kinetic of the molecular response before treatment discontinuation. For the first time we report a prospective follow-up of patients included in a prospective clinical trial testing dasatinib first line before discontinuation. Our patients were selected to be early molecular responders and were discontinued after the shortest duration of therapy reported to date. Despite the use of dasatinib and with the limitation of a short follow-up, we failed to improve TFR as compare to previous studies with imatinib first or second line or second generation TKIs second line. Our results suggest that early molecular response is not the path to cure and that duration of therapy is probably the most important parameter to consider before making the decision to discontinue tyrosine kinase inhibitors. 
Keyword(s):
Chronic myeloid leukemia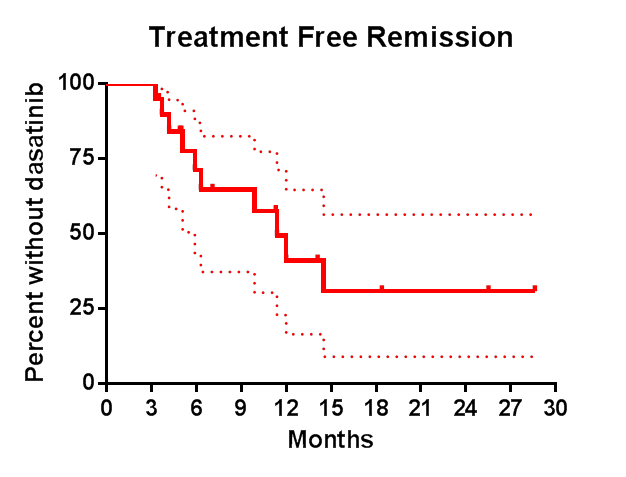 Session topic:
Chronic myeloid leukemia - Clinical 2