Abstract: P207
Type: Poster Presentation
Presentation during EHA22: On Friday, June 23, 2017 from 17:15 - 18:45
Location: Poster area (Hall 7)
Background
In a phase 2 study of 50 elderly patients (≥65 years) with AML who were not eligible for intensive chemotherapy, treatment with the investigational HDAC inhibitor pracinostat + azacitidine (AZA) was well tolerated and led to 42% complete remission (CR) rate and a median overall survival (OS) of 19.1 months (Blood 2016; 128:100). Responses were durable (median CR+CRi 17.2 months), blast clearance was rapid (median 8 weeks), and maximum clinical benefit required prolonged therapy (> 6 months) in some patients.
Aims

Our aim was to understand the impact of somatic mutations and their clearance on disease response and survival outcomes in AML patients treated with pracinostat + AZA.
Methods

88 samples from 41 study patients were sequenced. Pre-treatment samples were available for analysis from all 41 patients, and a median of 3 longitudinal samples were analyzed from 19 patients between Cycle 2 and 9. Leukemia mutations were detected by SureSelect targeted capture exon sequencing (Agilent) of 295 genes that are recurrently mutated in hematologic malignancies (median coverage 507x [range: 111-777x]). Longitudinal mutation clearance was analyzed by tracking variant allele frequency (VAF). Informed consent was obtained from all patients.
Results

At baseline, 96 mutations in 28 genes were detected in 38 (93%) patients, with the most frequent being in SRSF2 (27%), DNMT3A (20%), IDH2 (17%), RUNX1 (17%), and TET2 (17%). The median number of mutations detected per patient was 2 (range: 0-6). Among the 33 patients with evaluable treatment response, CR was observed in 13 (39%) patients. The rate of CR was significantly higher in patients with mutations in NPM1 or in one of the DNA methylation pathway genes, while patients with TP53 mutation had a trend for poor CR (Table). The median follow up duration of the 41 patients was 23.8 months (95% CI: 20.4-27.1 months) with median OS of 18.1 months (95% CI: 10.1-26.1 months), patients with CEBPA mutation had a trend toward better OS, whereas patients with NF1 mutation had significantly worse OS (Table). Considering mutations associated with AML ontogeny (Lindsley RC, Blood 2015;125:1367-76), median OS was 17.7 months in 20 patients with mutations typically associated with secondary AML and 18.1 months in 18 patients with mutations typically associated with de novo AML.  Among the 19 patients whose longitudinal specimens were analyzed, 10 achieved CR. Of those 10 patients, 9 (90%) had persistently detectable mutations in their bone marrow at the time of CR, however, in 7 of them, continued exposure to pracinostat + AZA lowered the VAF or cleared residual mutations. Mutations in genes associated with DNA methylation, RNA splicing, clonal hematopoiesis of indeterminate potential (CHIP), and receptor tyrosine kinase (RTK) pathways had poor clearance of mutation, while transcription factors or cohesin had better clearance with pracinostat + AZA treatment. In 2 patients, relapsed samples were sequenced and showed re-expansion of the founder clone.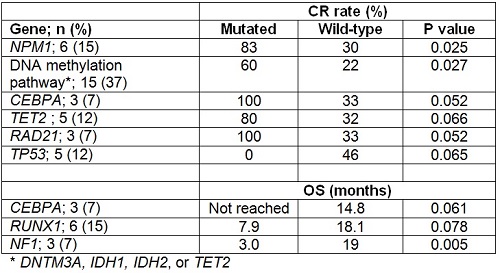 Conclusion
Mutations in NPM1, and DNA methylation pathway were associated with a better response to pracinostat + AZA, while TP53 mutation was associated with a trend toward poor response. Persistent mutation at the time of CR suggests residual preleukemic clonal hematopoiesis in this elderly population. Benefit of prolonged exposure to pracinostat + AZA was also confirmed at molecular level where continued decline of mutation VAF was seen after achieving CR.
Session topic: 4. Acute myeloid leukemia - Clinical