Abstract:
P313
Type:
Poster Presentation
Presentation during EHA21:
On Friday, June 10, 2016 from 17:15 - 18:45
Location:
Poster area (Hall H)
Background
Rituximab, (R) as a single agent or in combination, is standard therapy for untreated or relapsed indolent B-cell non-Hodgkin lymphoma (iNHL). Due to the ubiquitous use of R in the treatment of iNHL and the invariable relapse of patients with iNHL, there remains an unmet need for novel therapies in relapsed iNHL. Ofatumumab (OFA) is an anti-CD20 human monoclonal antibody (mAb) that binds to a membrane-proximal epitope of the CD20 molecule. 
Aims
The study aimed to evaluate the efficacy and safety of treatment with OFA compared with R in iNHL patients who had relapsed following R-containing treatment. Here we report the results of the interim futility analysis.
Methods
In this Phase III, multicentre, open-label study, patients (aged ≥18 years) who had relapsed following R-based therapy were randomized to receive either 1000 mg OFA or 375 mg/m
2
R every week for 4 weeks, followed by every 2 months for four additional doses. All patients provided informed consent and were R-sensitive: a complete or partial response to their last prior R-containing therapy lasting at least 6 months beyond the end of R treatment was required. Randomization was stratified by FLIPI score (0–2 vs 3–5), disease type (FL vs non-FL), and prior R (monotherapy vs combination). The primary endpoint was progression-free survival (PFS), as assessed by an independent radiology reviewer (IRR). An interim futility analysis was reviewed by an independent data monitoring committee (IDMC) when 50% of the 373 planned events for the primary endpoint analysis had been reported. A recommendation to stop the study would occur if the IRR-assessed PFS had a conditional power ≤30%. 
Results
A total of 409 patients (205 in the OFA arm and 204 in the R arm) were enrolled and evaluated in the interim analysis. The majority of patients (98%) had follicular lymphoma. Patient and disease characteristics were similar between the treatment arms. Just under a third of patients (31% OFA, 27% R) discontinued from study treatment, with the most common reason being disease progression (21%). The IRR-assessed median PFS was 16.2 months in the OFA arm and 21.2 months in the R arm (Table 1). IRR-assessed response rates were 50% and 63% in the OFA and R arms, respectively. Investigator (INV)-assessed median PFS was 16.1 months and 17.9 months in the OFA and R arms, respectively. INV-assessed response rates were 47% for OFA and 58% for R. Median overall survival and median time to next therapy appeared to be similar between arms. Infusion-related adverse events appeared higher in the OFA arm vs R arm (any grade: 87% vs 58%; grade 3/4: 22% vs 5%), and mostly affected the first infusion administered. Incidences of gastrointestinal disorders appeared higher in the OFA arm vs R arm (38% vs 27%), whereas neutropenia (OFA: 3% vs R: 7%) and pyrexia (OFA: 4% vs R: 10%) appeared to be more frequent in the R arm. 
Conclusion
Based on the reported observations of efficacy, the IDMC recommended stopping the study for futility, as there was little likelihood of OFA demonstrating superiority over R, and accrual was terminated.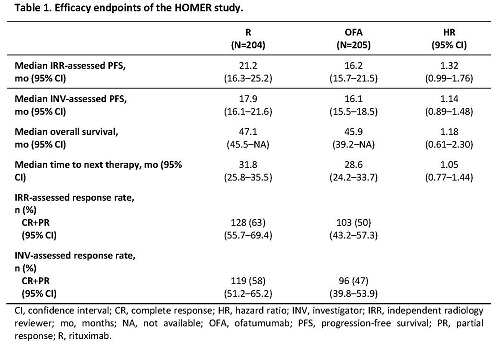 Session topic:
Non-Hodgkin & Hodgkin lymphoma - Novel agents
Keyword(s):
Follicular lymphoma, Indolent non-Hodgkin's lymphoma, Monoclonal antibody, Phase III