Abstract:
P226
Type:
Poster Presentation
Presentation during EHA21:
On Friday, June 10, 2016 from 17:15 - 18:45
Location:
Poster area (Hall H)
Background
Idelalisib (IDELA), a first-in-class, selective oral PI3Kδ inhibitor, has been associated with increased alanine transaminase (ALT) and aspartate transaminase (AST) elevations in clinical trials. These transaminase elevations typically occur early during treatment (median onset of 8 weeks) and are generally asymptomatic.  Currently recommended management of grade ≥3 (>5-20X ULN AST/ALT) elevation involves dose interruption with re-initiation of therapy possible following resolution to grade ≤1.
Aims
This post hoc analysis evaluated outcomes following treatment-emergent grade ≥3 ALT/AST in IDELA clinical trials.
Methods
An integrated analysis of safety was conducted for 1073 patients across 9 studies: 538 with previously treated chronic lymphocytic leukemia (CLL), 105 with untreated CLL or small lymphocytic lymphoma (SLL), and 430 with other relapsed/refractory B-cell malignancies (indolent non-Hodgkin lymphomas, mantle cell lymphoma, diffuse large B-cell lymphoma, Hodgkin lymphoma, acute myeloid leukemia, and multiple myeloma) who received IDELA alone (doses = 50 mg BID to 350 mg BID) or as part of a combination regimen (IDELA doses = 100 or 150 mg BID).Clinical laboratory findings were evaluated for highest grade of ALT/AST elevation and summarized according to MedDRA and Common Terminology Criteria for Adverse Events (CTCAE) liver-related laboratory tests and categories.  Those with grade ≥3 ALT/AST elevation were evaluated for rate of resolution to grade ≤1 ALT/AST, and recurrence of the event at any time on study. Patients were grouped by use of IDELA alone or as part of a combination regimen.
Results
Among patients with any disease type or regimen (N = 1073), the incidence of any grade ALT/AST elevation was 51%, and the incidence of grade ≥3 ALT/AST elevation was 14% (Table). Of patients with transaminase elevation, 73% (398/543) experienced grade 1 or grade 2 events.  The incidences of grade ≥3 ALT/AST elevations, and outcomes for patients with grade ≥3 ALT/AST elevation (Table) were comparable whether IDELA was used alone or in combination.  92% of patients with grade ≥3 ALT/AST elevation were managed with dose interruption and achieved resolution to grade ≤1.  The majority (69%) of patients with subsequent IDELA rechallenge experienced no recurrence of the event; of events that did recur, the vast majority (94%) resolved in the analysis time period.
Conclusion
These data support the management of ALT/AST elevation with IDELA using dose interruption at grade 3 with reintroduction after resolution at the discretion of the treating physician. 
Studies Included in this Analysis:
101-02: NCT00710528; 101-07: NCT01088048; 101-08: NCT01203930; 101-09: NCT01282424; 101-10: NCT01306643; 101-11: NCT01393106; 101-99 (extension): NCT01090414; GS-US-312-0116: NCT01539512; GS-US-312-0117 (extension): NCT01539291; GS-US-312-0119: NCT01659021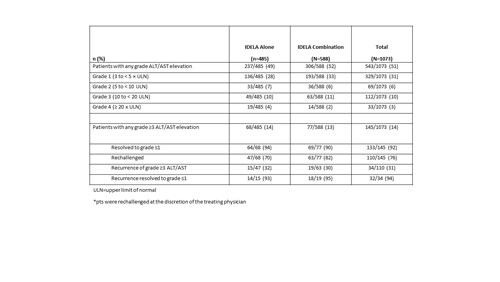 Session topic:
CLL - Efficacy and safety of new treatments 2
Keyword(s):
Chronic lymphocytic leukemia, Safety, Targeted therapy