Abstract:
P213
Type:
Poster Presentation
Presentation during EHA21:
On Friday, June 10, 2016 from 17:15 - 18:45
Location:
Poster area (Hall H)
Background
Idelalisib (IDELA) is an oral PI3Kδ inhibitor approved within the EU for use with rituximab in pts with relapsed CLL and as first-line treatment of CLL with either del(17p) or
TP53
mutation in patients unsuitable for chemo-immunotherapy. This open-label study (NCT01659021) compared IDELA + ofatumumab (OFA) vs OFA in pts with relapsed CLL. Results of the primary endpoint analysis were previously reported
(Robak et al, EHA 2015) and are updated here with an additional 8.5 mos of follow-up. In the primary analysis, the combination yielded superior PFS and the KM estimated median OS was 20.9 and 19.4 mos in the IDELA + OFA and OFA arms, respectively.
Aims
To evaluate the safety and efficacy of IDELA + OFA vs. OFA alone in patients with relapsed CLL.
Methods
Pts with CLL progressing ≤ 24 mo from last therapy, who had received ≥ 2 cycles of a purine analogue or bendamustine, were randomized 2:1 to either Arm A (IDELA 150 mg BID continuously plus OFA, 300 mg IV wk 1, then 1 g IV q wk x 7 and q 4 wk x 4) or Arm B (OFA, same as Arm A except 2 g was substituted for 1 g dosing) with stratification factors relapsed vs refractory, del(17p) and/or
TP53
mutation, and
IGHV
mutation. The primary endpoint was PFS as determined by an Independent Review Committee using modified IWCLL 2008 criteria.
Results
Pt characteristics were balanced in the 2 arms: med age 67; Rai II/III/IV 18/13/51%, med no. prior regimens 3, refractory 49%, del(17)p/
TP53
mut 40%,
IGHV
unmut 78%. Exposure, disposition, and efficacy are shown in the table. Results were consistent across risk groups. Gr ≥ 3 AEs in Arm A included diarrhea/colitis (23.1%), pneumonia (19.7%), and pneumonitis (4.6%).
Conclusion
With > 8 mos longer follow-up, IDELA + OFA vs OFA continues to show superior PFS and ORR, and now demonstrates superior OS in pts with del(17p)/
TP53
mut and a trend of improvement of OS in the ITT population.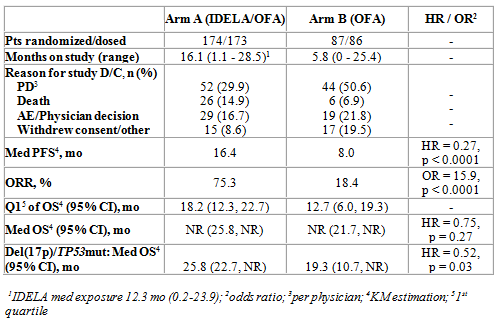 Session topic:
CLL - Efficacy and safety of new treatments 1
Keyword(s):
Chronic lymphocytic leukemia, Phase III, PI3 kinase