Abstract:
E1480
Type:
Eposter Presentation
Background
Young patients with red blood cell disorders, such as β thalassemia major (βTM), sickle-cell disease (SCD) and Diamond–Blackfan anemia (DBA),
receive regular transfusions from an early age and consequently accumulate iron. Complications of iron overload include organ damage and delayed growth/development, therefore optimal management of iron is required. Deferasirox, a once-daily oral iron chelator, has demonstrated safety and efficacy in adult and pediatric patients with transfusional hemosiderosis. As requirements for therapy may be lifelong, continual assessment of long-term outcomes is valuable, as conducted in the 5-year multinational, observational ENTRUST study.
Aims
Evaluate the long-term safety and efficacy of deferasirox in younger transfusion-dependent children with chronic iron overload in clinical practice.
Methods
Patients aged 2–<6 years at enrolment were prescribed deferasirox according to local labels, with dose adjusted based on serum ferritin, therapeutic goals, tolerability and changes in patient weight. Parents/guardians provided written, informed consent. The primary objective was to evaluate safety, specifically renal and hepatic function, assessed by ≥2 consecutive post-baseline measurements ≥7 days apart of serum creatinine (SCr) >age-adjusted upper limit of normal (ULN) and >33% from baseline and alanine aminotransferase (ALT) >5xULN. Secondary objectives included analysis of serum ferritin, investigator-reported adverse events (AEs) and growth.
Results
In total, 267 patients (mean age 3.2 years: 61.4% <4 years, 38.6% ≥4 years) with βTM (n=176, 65.9%), SCD (n=52, 19.5%), DBA (n=12, 4.5%) and other anemias (n=27, 10.1%) were enrolled and received ≥1 deferasirox dose. 122 (45.7%) patients discontinued, most commonly (>5% of patients) due to 'Other' reasons (n=55; 20.6%), loss to follow-up (n=19, 7.1%) and AEs (n=18, 6.7%; most commonly increased ALT and increased AST, n=7 each). Mean±SD deferasirox exposure and dose were 44.1±21.2 (range 1.2–65.6) months and 25.8±6.5 mg/kg/day, respectively. Most patients (n=172; 64.4%) received an average blood intake >7 mL/kg/month. Median serum ferritin decreased from 1702 (range 334–9577) ng/mL at baseline (n=243) to 1127 (range 38–6428) ng/mL at 5 years (n=84).Eight (3.1%) patients had two consecutive SCr increases >age-adjusted ULN and >33% from baseline; two received deferasirox dose adjustments to resolve the observed SCr increase. Overall, 11 (4.2%) patients had two consecutive ALT increases >5 or >10xULN, three of whom received deferasirox dose interruptions. There were no unexpected adverse events (AEs) or laboratory abnormalities. The most frequently observed AEs with suspected relationship to study drug (Table) were increased ALT (21.1%), increased AST (11.9%), vomiting (5.4%) and rash (5.0%). A steady increase in weight was observed.
Conclusion
This long-term, observational study of deferasirox in pediatric patients supports previous trials indicating favorable safety and efficacy. Over half the patients completed the 5-year study, with limited discontinuations due to AEs. Few patients experienced notable increases in renal or hepatic assessments and continued deferasirox therapy at the same or reduced dose. In this pre-pubertal study population, growth was normal. Thus, with regular monitoring and dose adjustments, effective long-term chelation therapy with deferasirox is manageable in the majority of pediatric patients in clinical practice.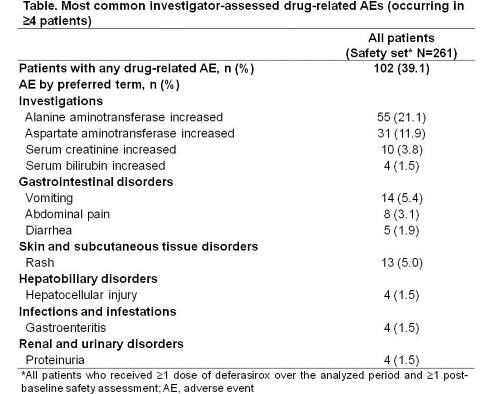 Session topic:
E-poster
Keyword(s):
Clinical data, Iron chelation, Iron overload, Pediatric