Abstract: P375Type:
Poster Presentation
Presentation during EHA20:
From 12.06.2015 17:15 to 12.06.2015 18:45
Location:
Poster area (Hall C)
Background
PKD is the most common glycolytic defect causing congenital non-spherocytic hemolytic anemia.  An international, multicenter Natural History Study (NHS) has been established to collect retrospective and prospective clinical data on PKD patients (pts).
Aims
To categorize PKD clinical severity based on degree of anemia, transfusion history, and splenectomy status and to identify predictors and prevalence of complications in the severity groups.   
Methods
105 pts with PKD enrolled on the PKD NHS at 14 IRB approved sites from March 2014 to January 2015. Pts were randomly assigned to either the test set (n=75) or future validation set.  For this analysis, baseline and retrospective enrollment data were included from the 75 test set pts.  PKD pts were categorized into 4 distinct severity groups (Gp1-Gp4), with increasing severity of the disease: Gp1. Never regularly transfused +/- prior acute transfusions; Gp2. Regular transfusions prior to splenectomy (SPL), post-SPL baseline hemoglobin (hb) >8.7 g/dl; Gp3.  Regular transfusions prior to SPL, post-SPL baseline hb ≤8.7 g/dl; and Gp4.  Splenectomized and currently regularly transfused.  Gp2 and 3 were regularly transfused prior to SPL and transfusion independent after SPL and are distinguishable by post-SPL baseline hb.  The median hb (8.7 g/dl) from Gp2 and 3 was used to discriminate between pts who were less anemic versus more anemic.  Ordinal logistic regression models were used to test for association between clinical characteristics and severity group.
Results
The Table shows the characteristics of Gp1-4.  In Gp1, only 42% of pts were splenectomized.  Younger age at diagnosis (p=0.04) was significantly associated with increased severity of disease.  There were no significant differences in groups based on gender, ethnicity, or race.  There was a significant trend for increasing ferritin (p=0.03) and liver iron concentration (LIC, p=0.04) with increasing PKD clinical severity, and more severe groups were more likely to have received chelation therapy (p<0.01).  Some Gp1 pts developed iron overload despite the absence of a history of regular transfusions.  There was also a trend for higher rates of cholecystectomy (p=0.01) with increasing clinical severity.
For certain complications, there was no evidence to support an association with clinical severity, including aplastic crises (overall rate 16%), extramedullary hematopoiesis (12%), and pregnancy complications of the affected mother (55%), as well as the requirement for  exchange transfusion in the newborn period (44%).  The reticulocyte count was incrementally higher with increasing clinical severity in the non-regularly transfused groups from Gp1 to Gp3 (p=0.02), even after controlling for splenectomy status.

As expected, multiple genotypes were found in this cohort.  Pts with the common, Amish, homozygous 1436G>A mutation were found in Gp1, 2, and 3, which may indicate a contribution of other genetic or environmental factors to clinical severity.
Summary
The PKD NHS represents the largest cohort of pts with PKD assembled to date.  We have identified 4 distinct severity groups, based on transfusion history, degree of anemia, and splenectomy status.  Complications, such as cholecystectomy and iron overload, are correlated with severity of disease.  Categories of severity will be validated in the next 75 PKD pts enrolled on the PKD NHS, and prospectively followed in this cohort for at least two years.  This classification may be helpful for determining monitoring and treatment practices in this rare anemia.
Keyword(s):
Hemolytic anemia, Iron overload, Red blood cell, Splenectomy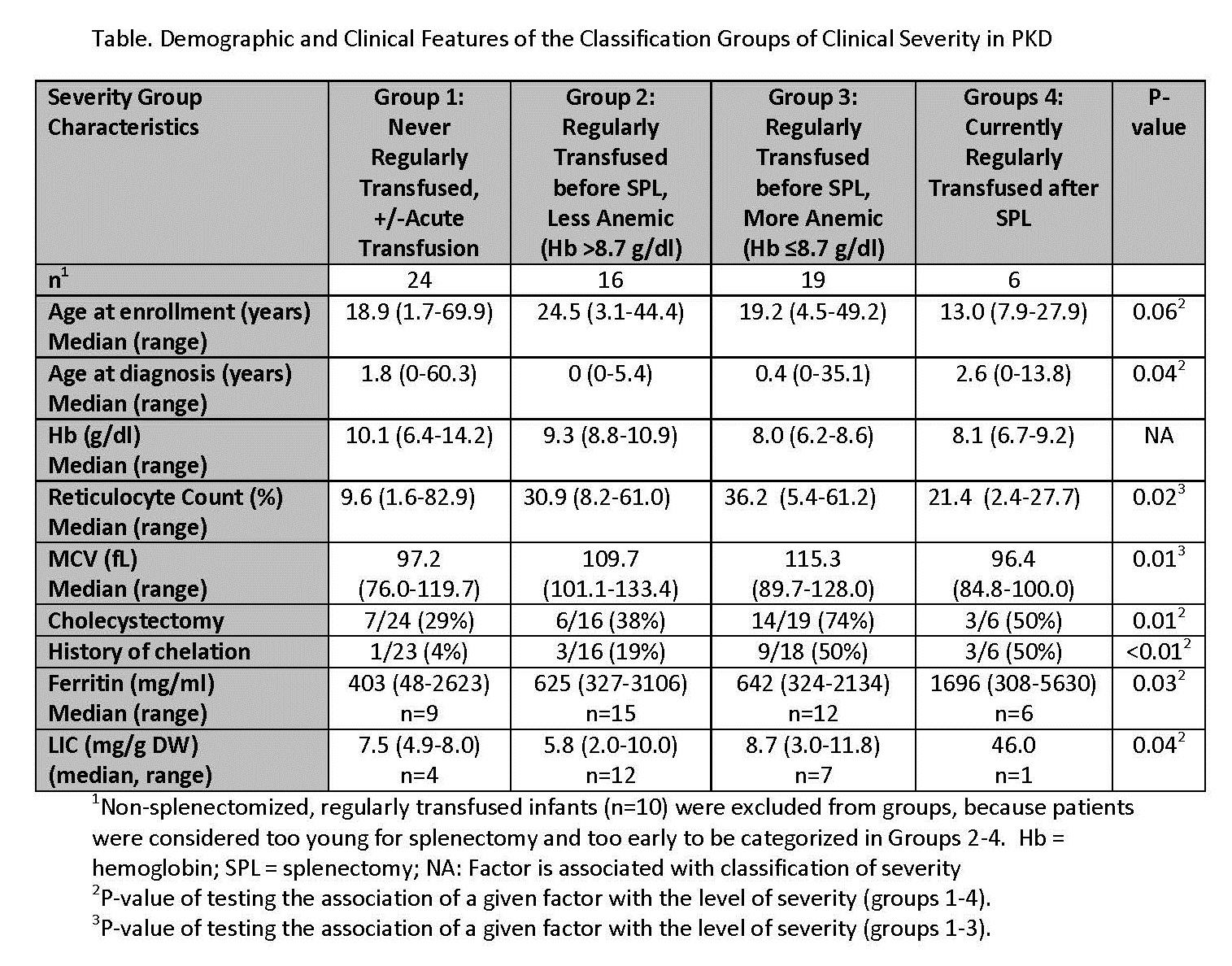 Session topic:
Red blood cells and iron - Clinical 1